Uli Koester
In January, MFC wrapped up an exciting year of celebrations, special lessons, and speaker engagements. Twenty years of teaching children about great food! Emerging from this excitement, we find ourselves with a new mission statement and a strategic plan with a broad sweep into our future. Let me tell you about a few of our ideas.
Climate Conscious Cuisine
Our new K-5 curriculum is almost ready to roll. In the next month Molly, Emily, and I will be testing out our lessons on seaweed, food waste, organic growing, and "Local Long Ago." For this lesson, think maple syrup, wild rice, and bison. But what did the early residents of our northland eat? To answer this question, we are commissioning a story from a local storyteller.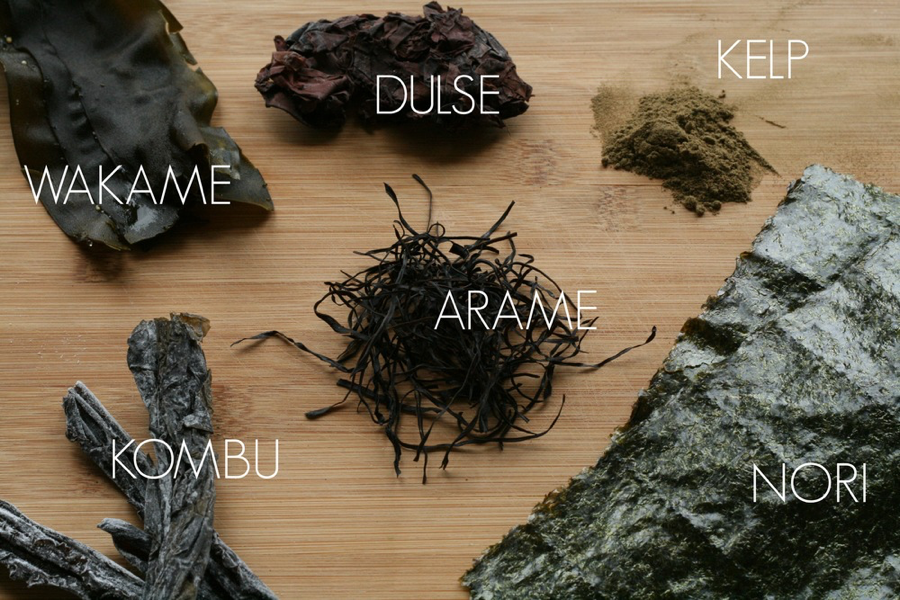 Reaching the Middle
Several years after launching our middle school teaching, we feel confident in our lesson material and are building relationships with several 6-8 schools. The 2016/7 school year has MFC staff at Anwatin, Barton, and Ramsey in Minneapolis, Hazel Park in St. Paul, and St. Anthony Village's middle school. We hope many more will join us in the upcoming years, and that co-ops and other funders will step forth to support this important work.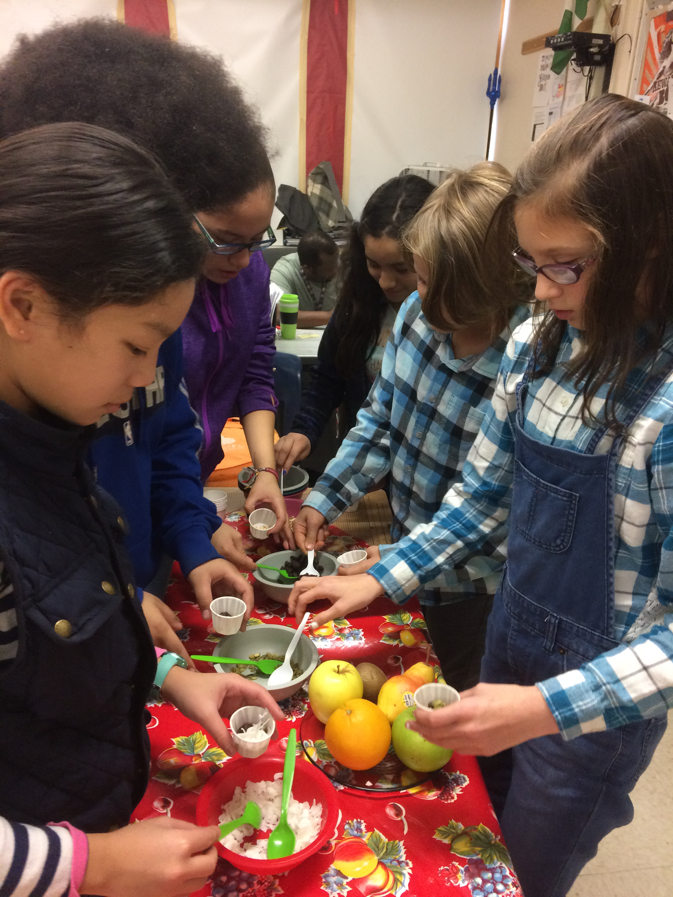 Anwatin students create their own trail mix.
Virtual MFC
Children love to see us unpack our bin, slowly revealing an array of tropical fruits, or a collection crawling live insects. What if, the next day, they could see Emily or me again, giving fascinating insights into another food, say a mango or clementine? With our you tube channel's short food-specific videos, teachers can bring us into their classroom whenever they want! Perhaps this could line up with a new lunchroom or healthful snack item that the school is serving.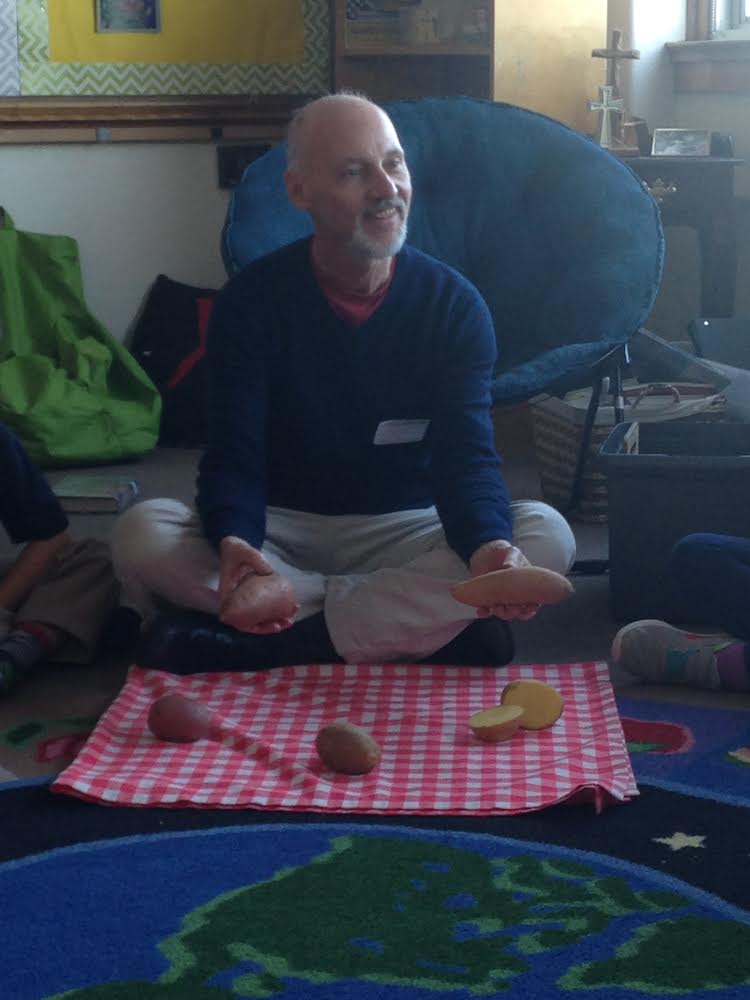 Involving Families
For 20 years we have inspired children in the classroom and relied on the power of our teaching to go home with the school bus. Surveys show our success rate is excellent. Nevertheless, we want to go the next step and work with the whole family. Already this spring we are planning evening school events, and inviting parents to school for special culminating celebrations. Other ideas, shoot us a line!

The Lunchroom/Classroom Divide
We know how to cross this divide: sampling lunchroom items in the classroom, fun introductions to new fruits and vegetables, chances to taste new dishes in quiet supportive environments. During 18 months of collaboration with Minneapolis' Culinary and Wellness Services, we have honed these crafts. St. Paul, Burnsville, Apple Valley, are you ready?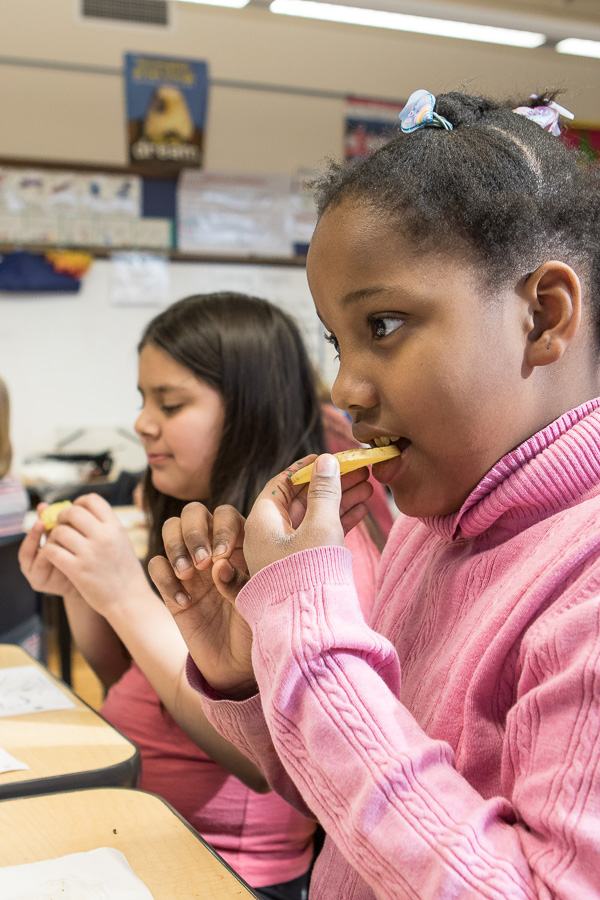 Eating Yukon gold potatoes