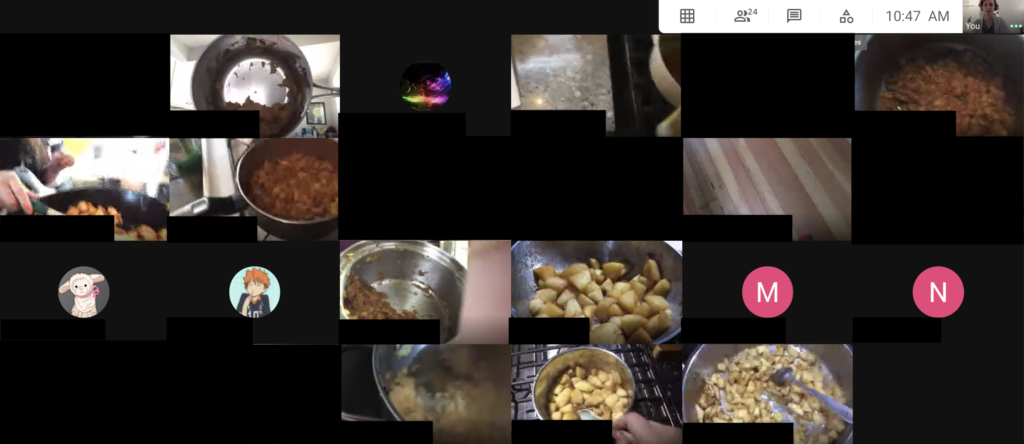 The last time I taught an in-person class for Midwest Food Connection was March 12, 2020. I taught three first grade classes at a Minneapolis school about wheat and pasta, as the students kneaded, shaped and cooked up their own pasta dough. COVID was on all our minds, although we were still going about our days pretty much as usual. I do remember leaving that school wondering if I should have done something differently – offered more hand sanitizer? Skipped the beloved food-sharing part of the lesson? Three days later, Governor Walz closed all schools in the state (for two weeks! Remember when that felt like a long time for students to be out of school?).
Mid-March is the time at MFC when we finish up our winter lessons and gear up for our spring curriculum. In the spring we have the opportunity to dream with students about gardens and growing things, plant seeds in their classrooms, get our hands dirty together in their school gardens, and taste some of the local early season goodies. Our spring lessons, like all of the seasonal lessons at MFC, work well because they are hands-on and experiential, and encourage students to engage all their senses in their learning. Transferring this to a virtual platform seemed daunting, but we were committed to doing our best to make it work.
A year later, nearly all of our lessons for the year have been revised, reworked, or rewritten to make them conducive to virtual learning.
We have spent hours honing our amateur film-making and video editing skills.
What were once boxes of sensory supplies that we'd bring into a classroom, are now lists of suggested materials for students to gather from their homes before starting a virtual lesson with us.
We've distributed thousands of seeds by leaving curated packets in waterproof boxes in school gardens for easy, contact-free pick up by families so students could still experience the wonder of watching a seed sprout.
Students across the Twin Cities have learned the fine art of fermentation, and turned tomatoes and apples into savory and sweet sauces, all while on Zoom.
Through all of this, we have learned that it is possible to create excitement around nourishing foods in a virtual setting. We still do taste tests, but often each student in the class is tasting a different food. By inviting them to slow down and pay attention to what all of their senses are telling them, we are able to find commonalities in our eating experiences. We have found that this leads to a shared experience and connection, even when we are not physically together.
Teaching during the pandemic has helped us pay more attention to how to connect students to healthful foods in their own homes. We don't need access to unique fruits like pomelos and lychees to encourage kids to discover the nuances of fruit flavors. Oranges, pre-sliced apples, and frozen strawberries work just fine.
At MFC we have known that food is a powerful connector. Teaching food education during the pandemic has reinforced that for us over and over again. Like many, we are so excited to be back in classrooms with students. That is the bread, butter, and heart of our work. For now though, we are so grateful for the opportunity to virtually inspire young people to deepen their relationship with food.
– Bonnie Lohmann