For the past nine months I have had the opportunity to volunteer with Midwest Food Connect (MFC) as part of my Master's in Public Health curriculum through the University of Minnesota. Through my MPH degree students take part in an Applied Practice Experience (APEx) that gives us an opportunity to see what really happens in public and population health organizations.  When I was brainstorming about my ideal APEx I pictured working with an organization that interacted with children, taught them about the importance of healthy foods, and incorporated some gardening into their lessons. After some internet searching I stumbled upon MFC and found my ideal organization to work with. 
A drawing by a student on how taste testing
different fruits made them feel
Students planted a variety of tomato plants at MY
MN Farmer in Montgomery, MN
Through my time with MFC I saw how essential they are to the public health practice. MFC is able to improve the lives of children by teaching them the life skills to learn about healthy habits and the importance of taking care of the gardens and farms in our community. This ultimately leads to helping children grow up to be happy and healthy adults. This work is essential to public health because in the United States the percentage of children and adolescents affected by obesity has more than tripled since the 1970s1. According to the CDC data from 2015-2016 shows that nearly one in five school age children and young people in the United States are obese1. Many factors contribute to childhood obesity. Some factors are harder to modify: genetics, metabolism, negative childhood events1. Some factors can be modified easily: eating, physical activity, community and neighborhood design, and safety1. MFC has developed lesson plans that complement a child's education with food education that is currently lacking in the public-school system. Their program is able to modify a child's access to healthy food education and can play a role in helping children achieve and maintain a healthy weight and lifestyle. The best part of MFC is that students have fun while learning about food!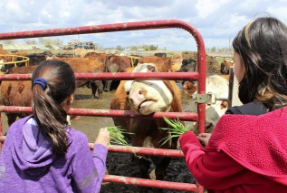 Students interacting with cows at My MN Farmer in Montgomery, MN
Green Beans harvested by a student this
summer at Northrup Elementary School
MFC brings in new and exciting whole foods to the classroom and allows students time to explore these foods through making illustrations, cooking demonstrations, and food tasting. During my APEx we visited local farms where students were able to learn about what takes place on a farm, and why it's important to support our local farmers. Students also spend time in their school's garden by planting and harvesting different vegetables and herbs. The lesson that MFC develop are incredibly effective, and I'm always surprised at how much information students are able to retain and recall from week to week and from lesson taught in previous years.  
Thank you for Uli and his team for allowing me to work with MFC and for the incredible work that they do every day!